1988 : FIRST VISIT TO AUSTRALIA
Off to Oz for the first time in March 1988 , , , originally I had booked up to go on my own but then brother Ron wanted to come along and then when we were discussing it with brother Rob he decided that he would like to visit again (having visited the previous year). As Rob had made up his mind very late he travelled out a day or two behind us other two. Ron and I had decided on a stopover in Singapore as I was keen to revisit the place where I had spent most of National Service 32 years previously. Due to flight delays we arrived in Singapore in the early hours of the morning and were due to travel onwards later the same day but we still managed to cram in quite a bit and I was able to visit the camp where I was stationed although not being allowed inside. However it was quite nostalgic and I took several photos of places, etc, which I had earlier photographed back in 1956. Eventually we all three arrived in Sydney and met up our sisters there and in my case I was meeting two brothers-in-law for the first time. I really enjoyed my three-week stay in Oz . . . visiting Sydney and seeing the Opera House and the Harbour Bridge in the flesh! We later all travelled up the coast north of Sydney for an 8-day break staying at caravan sites and motels and visiting such areas as the Myall Lakes, the Hunter Valley wine making region and the Blue Mountains. All in all a really fantastic introduction to Australia.
1992 : SECOND VISIT TO AUSTRALIA
Up in the Snowy Mountains
Kuranda Railway Station, Cairns
FOUR years on and this time with brother Ron and sister Enid we flew south for another 4-week holiday in Oz. This time we had a 2-night stopover in Singapore and saw a bit more of that great place. Arriving in Oz we had planned to see a bit more of the country on this visit and our first expedition was down to the Snowy Mountains with sister Cherry and her husband Brian. In the Oz winter this is where they do their skiing but at the time of year we were there (April) there was no snow but the scenery was great and we enjoyed several days in a log cabin in the National Park. After that Ron and I flew to Alice Springs to experience the Red Centre, leaving Enid with her sisters. From Alice Springs we took a three-day tour out to Ayers Rock and Kings Canyon including a bumpy light aircraft flight over the Rock and the nearby Olgas. Back from the Red Centre and it was time to climb aboard another plane and head for Cairns up on the east coast in Queensland. Trips on the Kuranda Railway and a visit to the Great Barrier Reef (with a helicopter ride over parts of the reef) were the definite highlights of this part of our holiday. After once again enjoying all the sights of Sydney including a harbour cruise and a visit to Manly and a weekend stay in a caravan at a place called Mollymook on the coast south of Sydney (including a game of golf with my brother-in-law Wally) it was not too long before the four weeks were up and we had to be winging our way back to the UK.
1996 : THIRD VISIT TO AUSTRALIA
ANOTHER four years on and brother Ron and I were on our travels once again. This time we had planned to visit Perth in Western Australia to see that part of the country. Changing planes in Bangkok we arrived in Perth on time and after two days exploring this beautiful city which included an all day cruise (with wine and food) on the Swan River we headed up the west coast on a coach trip to Monkey Mia where the wild dolphins come into the shore to be fed. This trip also included a visit to the Pinnacles and Shell Beach and we both really enjoyed our visit to this part of Oz. On one evening we met up with three former colleagues of mine from the Essex Chronicle who now live and work in the Perth area. Leaving Perth it was a four-hour flight and a two-hour time change to Sydney where we were met by our two sisters. It was not long before we were off on our travels again . . . this time with Cherry and Brian we headed for a place called Lightning Ridge in the north-west of NSW where opals are mined, then it was across country and back to Cherry's home in South Kempsey where we had not visited before as they had moved up here in between our visits to Oz. Leaving Cherry's, we flew down in a small aircraft to Sydney and the next morning flew back up to Cairns for a 5-day visit and to see some more of the sights in and around Cairns including our second trip to the fascinating Great Barrier Reef. Finally it was back down to Sydney and then a final few relaxing days in a cabin near the beach at a place called Jervis Bay which is south of Sydney (including an 18-hole round of golf with the brother-in-law) before it was time to head back to the UK.
2002 : FOURTH VISIT TO AUSTRALIA
AFTER a break of over six years it was time to visit the reles once again down under. This time accompanied by sister Enid, brother Rob and sister-in-law Marian we set off in the middle of September for a month-long visit. We broke the journey to Sydney by firstly having a two-night stopover in Singapore and then a 5-day stay in Perth in Western Australia. We all enjoyed one full day in Singapore which included a City Tour and a general walkabout around the waterfront area. It was very hot and humid but we all enjoyed the wonderful sights of that magnificent place just 100 miles north of the equator. Then it was off to Perth where we stayed at the Novotel Langley Hotel just once block from the Swan River waterfront. Our first full day in Perth was spent on a City Tour and then a cruise down the Swan River to Fremantle where the river flows into the Indian Ocean. The City Tour includes a visit to King's Park which affords glorious views over the city and the Swan River. The next day we set off on a self-drive tour south of Perth to the Margaret River region where there are loads of wineries and beautiful scenery to visit and see. We drove down to Cape Leeuwin which is the most south-westerly point of Australia and is where the Southern and Indian Oceans meet. The coast line all along that area is very picturesque and a very interesting drive. After a couple of days exploring the area we headed back to Perth for one more night in the Novotel Langley before flying across to Sydney. This trip takes around four and a half hours plus the clocks have to be put on two hours. So departing Perth at around 4pm it was nearly 11pm when we arrived at Sydney to be met by our sisters and families. A four-day rest with sisters Jennifer and Cherry at Jen's home in Campbelltown (including a couple of games of golf for me) to catch up on all the news and to recuperate and then it was off for a five-day visit to Tasmania. Flying down to Hobart (around a couple of hours) we stayed in a very comfortable self-catering apartment near to the harbour. Hiring a 12-seater mini-bus to take the six of us (five brothers and sisters and a sister-in-law) we first visited the old penal colony of Port Arthur which is around 90km south of Hobart. This is truly a very interesting and historic place and whilst there brother Rob, sister Jen and myself took a seaplane flight all over the area to get a different perspective of the area from above. One of the main reasons for visiting Tasmania was so that we could all visit nephew Allan (Jen's son) and his wife and family at their smallholding near a place called Hounville which is about 45 minutes drive south west of Hobart. All this area of Tasmania has some magnificent scenery covered as it is with ample forests and rivers and mountains. With Allan and family we also visited the Tahune Forest where what they call an Air Walk has been built up in the canopy of the trees. This walk consists of nearly 600 metres of steel pathways which are at an average height of 20m above the forest floor culminating in a cantilever section that projects 24m out over the River Huon which is 48m below at the end of this section. This was a really interesting place to visit with some magnificent views over the extensive forest and the river. With a visit to the Cadbury Factory and a cruise on the River Derwent at Hobart plus some nice meals out in the evenings our Tasmanian adventure soon came to an end and it was time to fly back to Sydney and to Campbelltown. But we were not to sit around for too long as the next phase of our Oz trip was to travel up to Cherry's home at South Kempsey which is around a 6-7 hour drive north of Sydney. With Cherry and Enid making the trip by train the rest of us were driven up by brother-in-law Brian to arrive in the afternoon after an early morning start. After the relatively cooler weather in Tasmania it was truly shirt-sleeve order up here in this part of NSW and for the next few days we visited several coastal areas such as Crescent Head, South West Rocks, Coffs Harbour and Port Macquarie as well as travelling inland to the Dorrigo National Park and Dangar Falls all interspersed with plenty of eating and drinking and also a bit of relaxing at Cherry and Brian's home which is set in five acres of land. Before we knew it, however, the week had gone and we had to travel back down to Campbelltown for our last couple of nights before making that long-haul flight back home.
2018: FIFTH VISIT TO AUSTRALIA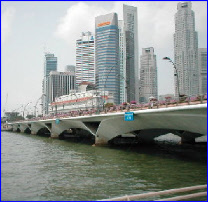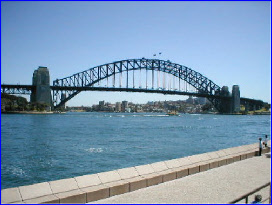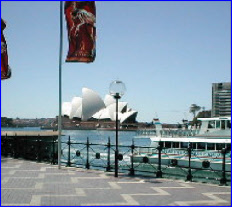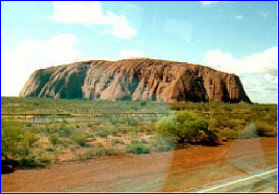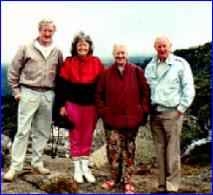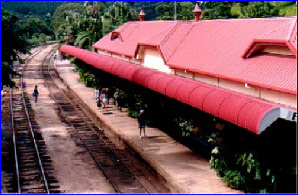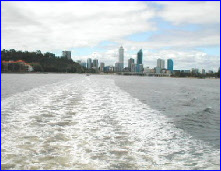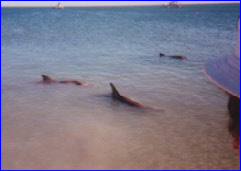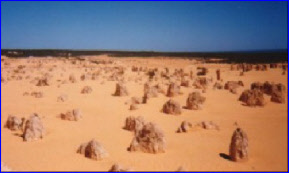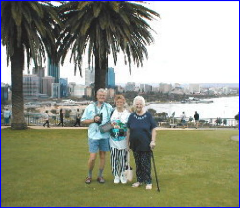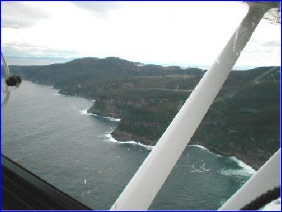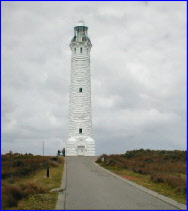 Just place the cursor over the Australia tab to get access to pages of photos from all the below visits
CAN'T believe that nearly 16 years has passed since my last visit to Oz and that I hadn't seen sister Jennifer for 13 years and what a reunion we had as she celebrated her 75th birthday just a few days after I arrived. No stopovers for me this time just a couple of hours changeover in Singapore after I had left Heathrow on the evening of February 6th to arrive in Sydney early on the morning of February 8th flying with the excellent Singapore Airlines in Premium Economy which was well worth the extra money. After settling in it was out and about time with visits to the Botanical Gardens at Mount Annan just outside of Campbelltown and a train ride into Sydney to take in the sights and travel out to Manly on the ferry. Then it was down to Kiama to see the blow holes and to enjoy a lovely lunch overlooking the ocean. During this first week Jennifer and I also hit the shops in Campbelltown and I booked my flights to Melbourne as well. Having the use of my nephew's car we also had a nice ride out to the Borragorang lookout to get an excellent view from there plus we also had a rare sighting of a Lyre bird. All this was intermingled with meals out, coffee and cakes and the excellent cooking of my sister (and she wouldn't even let me help with the washing up!!). Into week three of my holiday and it was time to visit my other sister, Cherry, who lives up the mid-north coast which I travelled to on the train. It took six hours but it was a lovely trip as the train wends its way up the coast (I treated myself to a first-class ticket!). Had a great week up there in their home at a place called Johns River which is a small village surrounded by mountains and forests and only a short distance from the coast. I had not been to their new home before so it was great to see it all. We travelled all round the area and further afield, again enjoying much eating out, etc, etc, and seeing all the contrasting landscapes that Australia provides including all the waterfalls that can be seen up on the Great Divide. All to soon it was back to Sydney on the train and "home" to Jennifer's to spend a few days just lazing around before I was off once again. This time I flew down to Melbourne, a city I had not visited before, where I had arranged to meet an old colleague from work who emigrated back in the late 80s. We had a good catch up, a couple of beers and of course and enjoyable lunch. I also had a good look around Melbourne and was most impressed with the place . . . Well worth the visit. During the rest of my holiday it was a mixture of things with only one partial disappointment when it rained all day on a visit to the Blue Mountains which were shrouded in clouds. It was still an enjoyable day however with good company (Kay and Clive, friends of Jennifier's, who had driven us down) and, guess what, we all enjoyed our coffee and cakes and lunch!! Getting close to the end of my six weeks one final highlight for me was my climb up and over the Sydney Harbour Bridge. Truly a great experience with magnificent views of all around Sydney Harbour and it was such a lovely hot day and so clear that you could even see the Blue Mountains from up there!!! Then all too soon it was time to get ready to come home. One more trip on the train out to a place called Bowral (Don Bradman came from there I think) and this day turned out to be the hottest of my holiday at 41 degrees!! Finally Jen and I took a trip into Sydney one last time and did the Red Bus tour all round the city which was excellent. Then on day 43 of my holiday it was time to catch the long haul flight back to London!!! Click on the link below if you want see some more of my photos and videos.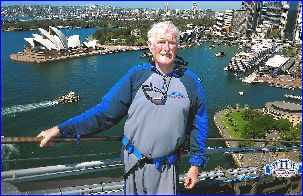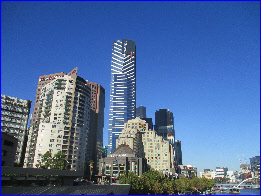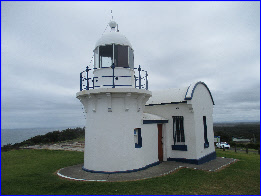 Sydney Harbour Bridge Climb

2019: SIXTH VISIT TO AUSTRALIA
EIGHTEEN months later and I am back in Oz once again. Leaving home on October 8th and travelling Premium Economy with Singapore Airlines I arrived in Sydney on the morning of the 19th to be met by my sister Jen and nephew Richard for the start of another adventure. One of the main reasons for this trip was to celebrate my sister Cherry's 80th birthday which was on October 20th. The first week and a bit of my holiday was spent with Jen and with the use of Richard's car we did a bit of sight-seeing around and about and enjoyed some nice meals as well as having a relaxing time catching up with everyone including a coupe of rounds of golf with nephew Allan. On October 19th I travelled up to Johns River with nephew Neil and his wife Kate to Cherry's home. We stopped for a nice meal halfway into our five-hour journey and then had a great reunion with Cherry and brother-in-law Brian. The 80th birthday party went off a treat followed by a bacon and egg barbecue breakfast the next morning. Then it was off with Cherry and Brian on a trip down to Canberra with a stopover at Gosford and then a delightful journey on a very scenic inland route to Canberra which took in the crossing of the Hawksbury River via Wisemans Ferry. Not having been to Canberra before this was much enjoyed with visits to the Australia Museum, the old and new Houses of Parliament, the Telstra Tower and the magnificent War Memorial. After two full days in Canberra we then drove across to the south east coast for a two-night stay at Kioloa where nephew Neil has a holiday home, a very quiet and peaceful site with a lovely beach nearby and with kangaroos leaping around all over the place! Then is was back to Campbelltown to sister Jen's for the remainder of my holiday. We packed in a few moresthings including a trip into Sydney to visit Bondi Beach and other sites by travelling on the open top hop-on hop-off red bus. We also visited Bulli and Wollongong and also went to the theatre in Wollongong. We also took a trip on the train to Bowral where we enjoyed another lovely lunch at the Elephant Boy cafe. Then before you know it it was time to come home and I wasn't really looking forward to the long flight but then I decided to treat myself to an upgrade to Business Class and thus enjoyed a really comfortable journey home arriving back in Heathrow on the morning of November 12th. Click on the link below to see all my Oz 2019 holiday pictures.
The War Memorial, Canberra